How our NAV solution simplified calculations and same-day reconciliations for a top AMC with 200+ schemes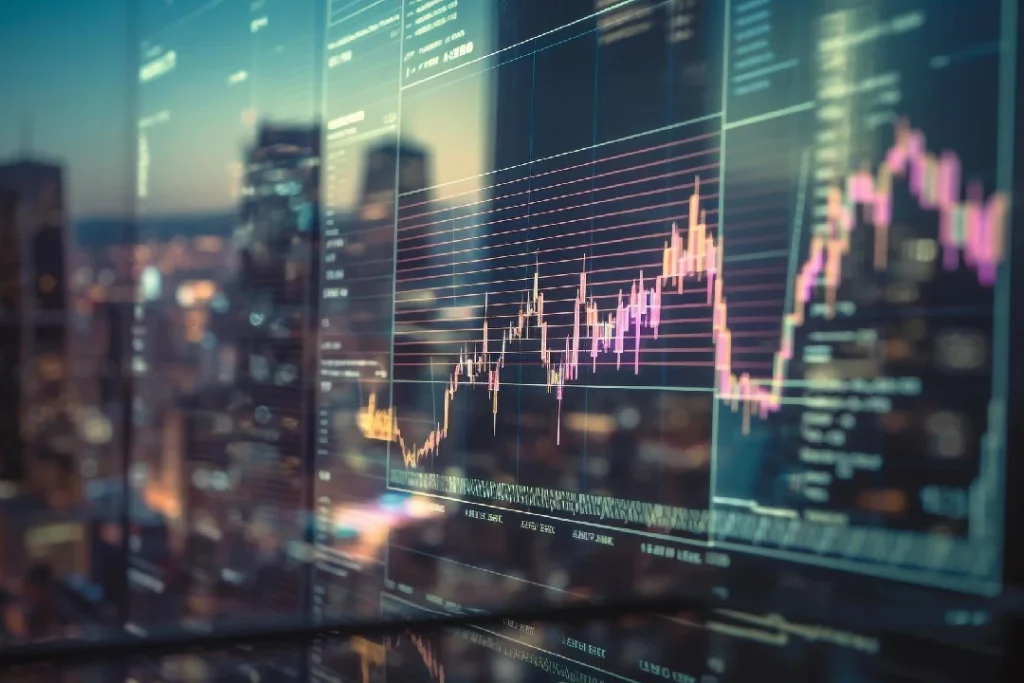 About the client
Our client is one of the top 5 large asset management companies in India with AUM of over ₹10 trillion (US$130 billion). The company manages a diverse portfolio of over 200 mutual fund schemes with multiple plans. The client has a geographical presence across 100+ locations in India.
Business challenge
The net asset value (NAV) calculation and reconciliation process for an asset management company (AMC) is a complex and time-consuming process. This is because AMCs manage a large number of funds with a variety of assets, and the NAV must be calculated accurately and reported on a timely basis.
The client was grappling with the task of computing and reconciling NAV for over 200 mutual fund schemes, each consisting of multiple plans. This process was being managed by a dedicated five member fund accounting team that would spend hours every day crunching numbers manually on Excel sheets on a T+1 basis (using previous day's data). Further, any inaccuracies in this calculation could lead to retrospective adjustments, affecting investor holdings and potentially tarnishing the company's reputation. The complex nature of debt securities, including interest payments, added further intricacy to the process.
Key gaps:
Time-consuming manual calculations requiring a dedicated 5 member team
Under utilization of talent requiring mundane repetitive tasks to be done by highly qualified people
Lack of timeliness as NAV computation was done using previous day's data
Risk of errors and inconsistencies
Possibility of breach of trust with investors and regulatory action in case of errors
While asset managers with multiple funds may outsource NAV calculations to third-party fund administrators, the ultimate responsibility for accuracy lies with the firm. Hence, there was a need to build a robust NAV computation and reconciliation solution that could help the client accurately calculate NAV for all their schemes in real-time.
Our solution
We developed an integrated NAV computation and same day reconciliation platform that takes feed from various sources for trades, valuation, income, expenses and dividends. We wanted to change the NAV calculation process from being a manual process requiring coordination and repetitive work to an operation that can be done in one click.
Our NAV solution was designed with the following cutting-edge features –
Simple web-based same day NAV computation & reconciliation platform: To eliminate the use of Excel spreadsheets & shared folders, AD based login.
Reconciliation reports with detailed drill down into all components: To help identify the source of any discrepancy quickly.
Manual overriding of rules & calculations: To alleviate the handling of exceptional cases
Independent of the primary fund administrator: To ensure more control over the NAV calculation process
An automated, exception-driven workflow with predefined controls: To help ensure that the NAV calculation process is efficient and accurate
A dashboard view with automated reconciliation to show NAV divergence: To track NAV changes and identify potential problems
Scalable to meet the future business requirements: To ensure that platform can support any number of mutual fund schemes launched in the future
Our NAV computation platform covers the below asset classes: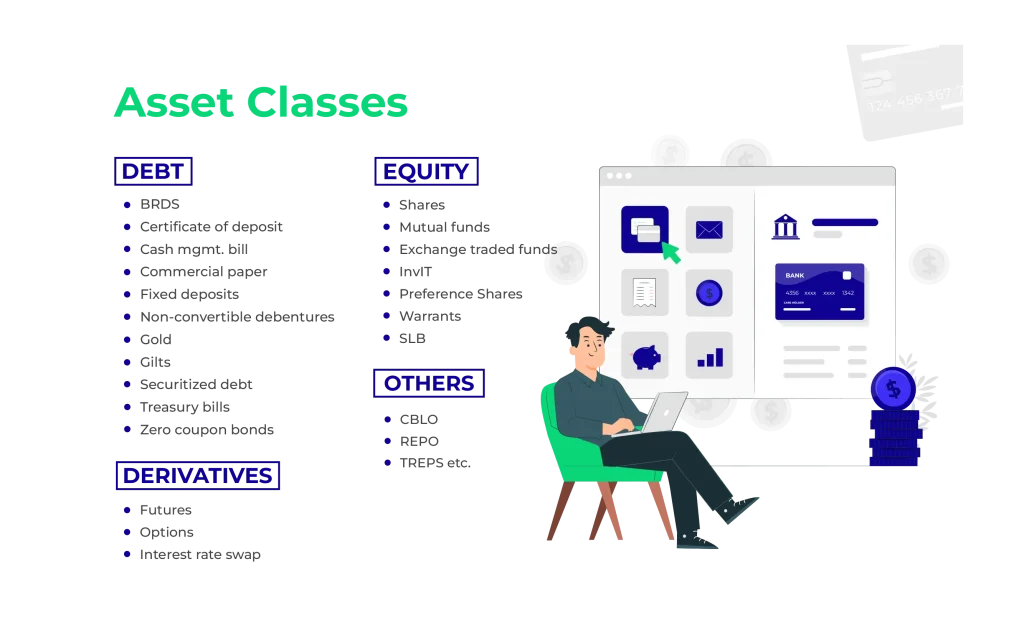 The platform takes daily inputs from the below data sources to compute NAV on the very same day: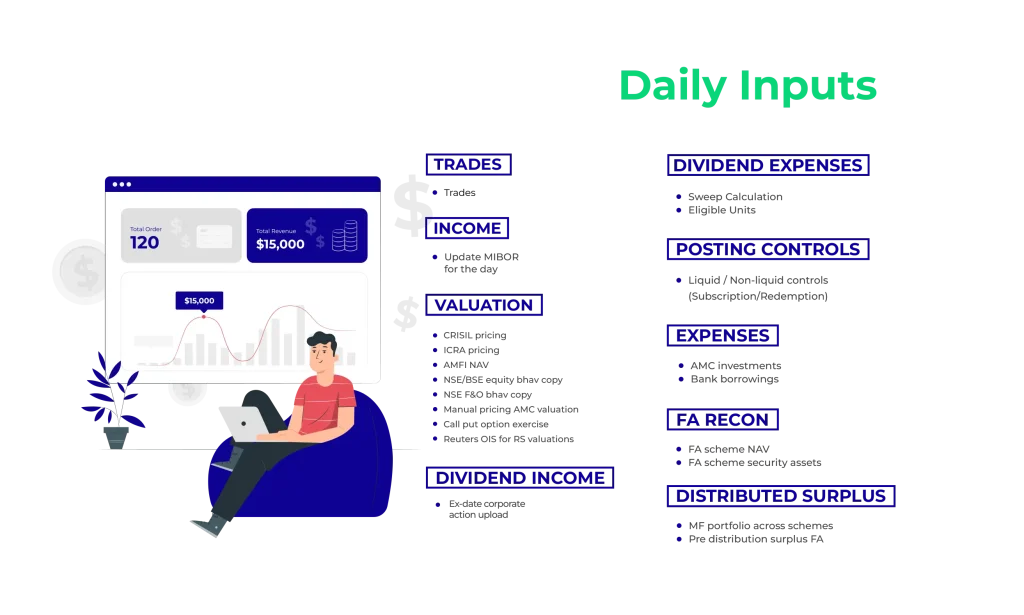 Our integrated platform is designed with a sophisticated computation flow which seamlessly allows a user to generate accurate NAV numbers for all schemes in a single click.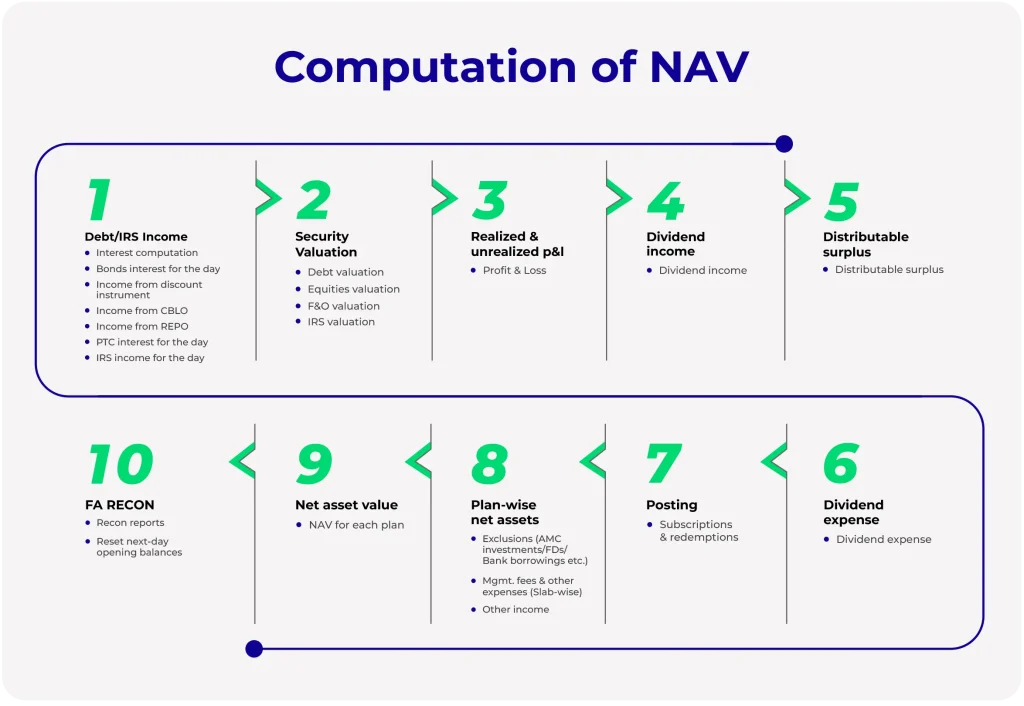 Our system also helps the client generate the following reports necessary for business analysis and regulatory filing: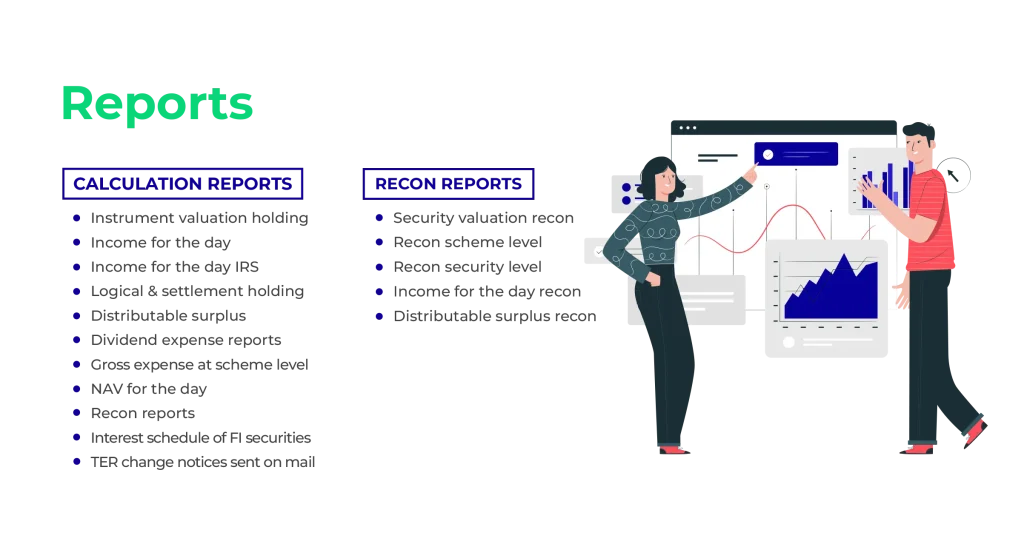 Outcomes
We started with the mammoth task of automating NAV computation for 200 mutual fund schemes which required a five member dedicated team. We delivered a NAV computation and same day reconciliation platform with the fastest industry run-time.
Our platform not only helped the client achieve time and cost savings by automating the NAV process, but also enhanced their efficiency through a host of benefits that the platform offers.
Enhance automation for data capturing
Connection to core systems / Databases (Trades, Security master, Corporate action etc.)
Web-scraping (prices from NSE, BSE, AMFI etc.)
Data from email attachments (Crisil, ICRA, RTA postings etc.)
SFTP / DFS connections.
One click computation
No need to wait for heavy Excel sheets to update
Save hours & hours of daily work
Robust & accurate results
Eliminating the possibility of manual errors.
Timely alerts
Option expiry, FD maturity, Dividend trigger alerts, TER change alerts etc.
Centralized data source for any auxiliary reporting
Risk, Limits, Performance, Compliance etc.